The Basic Ingredients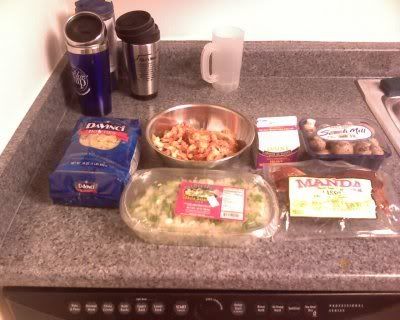 In the photo, you see a pound of frozen crawfish tails, 1 cup heavy cream, Manda tasso, some pre-cut "Holy Trinity," and bow-tie pasta.
Getting Started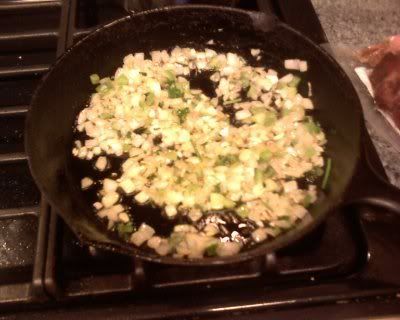 The "Holy Trinity" of Creole cooking is, of course, onions, green pepper, and celery. I cheated for this dinner and bought pre-chopped veggies. Now they're sauteeing in about 3tbsp of olive oil. Some folks use butter here, but I'm trying to be responsible. Of course, that's like drinking a diet coke with a big mac, given the cream sauce.
Tasso!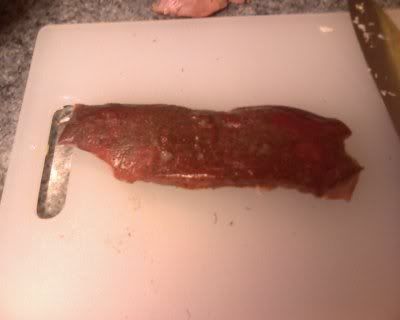 Tasso is smoked, spicy pork loin. It's VERY spicy, to the point that you really don't need a lot of additional pepper in a dish that includes tasso. Usually I'd sprinkle some creole seasoning on the sauteeing veggies, but here I just added a cup or so of diced tasso.
Making the sauce
When the onions get transparent, sprinkle 3tbsp of white flour over the top. This is the quick-and-dirty way to thicken a sauce. Since we're not looking for a dark roux here, we can get away with doing things more-or-less in reverse. When the veggie-tasso-oil-flour mix gets all thick and starts to ball up, add 1/2 cup of chicken (or fish) stock (I used chicken), and 1/2 cup of wine, stirring constantly. Continue to add stock and/or wine to thin the sauce out a bit more if necessary. To this, add the 1 cup of heavy cream, again stirring constantly. Simmer on low heat.
Shrooms...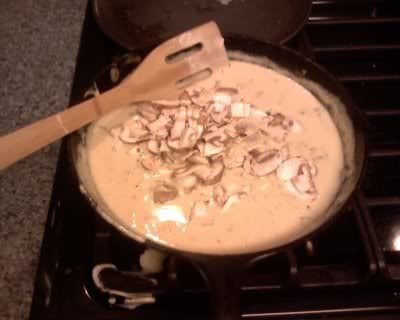 Just to be a bit different this time, I added about a cup of sliced "baby bella" mushrooms.
Crawfish...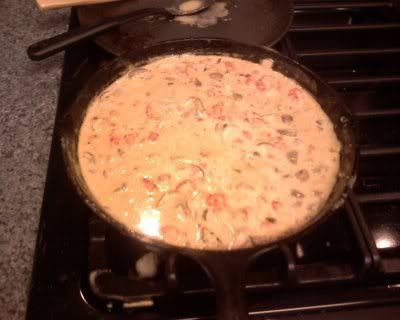 The crawfish are already cooked, so they go in last. Continue to simmer and cook the pasta.
Dinner!
When the pasta is al dente, drain and toss with the sauce. Serve with lots of french bread, and some dry white wine.