We have a family tradition where we let the boys pick a nice restaurant to go to celebrate their birthdays. Since today is my youngest's 17th, we took him to his choice, Ralph's on the Park, last night, since he's off to scout camp today.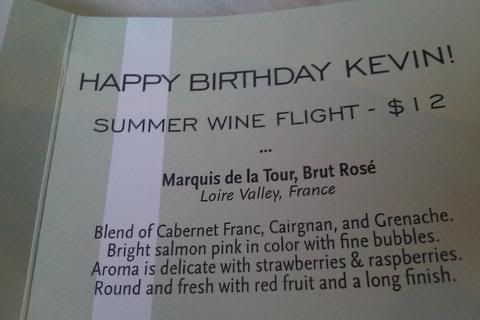 Ralph's uses OpenTable for on-line reservations, but my wife is old-school about reservations, so she called. In a way, that paid off this time, because they asked if we were coming in for a particular celebration. Naturally she mentioned kiddo's birthday. We were shown to a table that had balloons tied to it, the hostess and server both greeted us by name, and told kiddo happy birthday. (He made me sit in the balloon chair, though; seventeen year-old boyd have limits on celebrations such as this.) I really loved this touch-the custom menus! After all, how much trouble is it really to run this through a laser printer, particularly if the template is in place?
Speaking of that menu, that wine flight on the menu was too good to pass up. Three small pours, those rose' bubbles you see listed, plus a white and a red that now slip my mind (and aren't on the website). All three were tasty; wife scarfed down more of the bubbles than I did, the red was good for pondering the menu, and the white went well with the starter.
For dinner, Helen decided on the "three appetizers and a glass of wine" special. This is a brilliant summer special. It's not uncommon to see folks go to Antoine's and order nothing but appetizes, so why not turn the starter menu into a small-plates dinner? She went with the turtle soup, "disgruntled" shrimp, and a soft-shell crab special. Kev got the "lamb two ways," and I had the "visiting fish." Kev and I split an order of their char-broiled oysters as a starter, and they brought Helen's turtle soup at the same time. The oysters were a bit different than the classic-style from Drago's that others are copying. Rather than on the half-shell, these were in a small dish, topped with bread crumbs and lots of good parmesan. The turtle soup was delicious. I often wonder if the Brennan's collectively decided to not fight each other over the Commander's turtle soup recipe, since it seems like every Brennan-operated place that has turtle soup does it so well.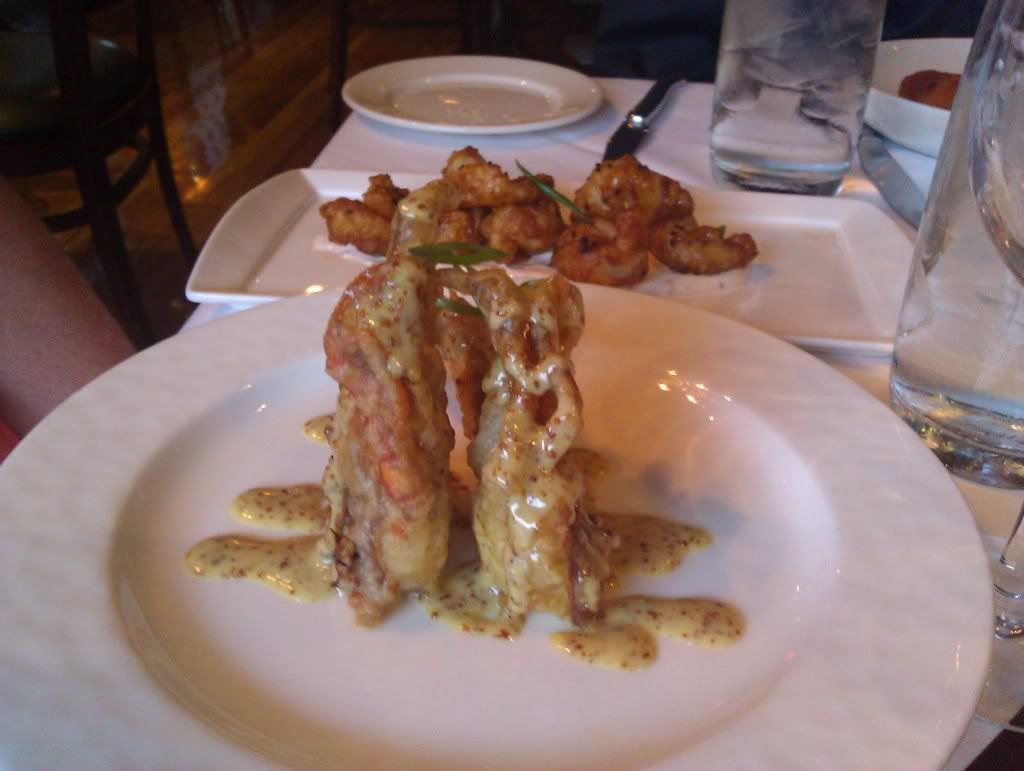 For the mains, they brought Helen's other two small-plate choices. That's the softshell in the foreground and the "disgruntled shrimp" in the background. Fortunately this was too much food for her to eat, because I was able to steal a shrimp and get a taste of the crab. Still, when I looked over at her plate, she killed a full half of that crab in no time flat, a testimony to how good it was.
Lamb Two Ways, Kev's main. The "two ways" are a thick-cut chop and lamb sausage. Having just had lamb this week at a pub on the road, I didn't try Kev's chop, but made him save a chunk of the sausage for me. I haven't had this tasty a sausage in ages. I mean, hot sausage po-boys are a pre-occupation of mine, but this was by far the best sausage I've had in New Orleans in years. If I could buy a pound or two of this, I'd turn it into po-boys regularly. Not wanting to come between the teenage dog and his lamb bone, I relied on his description that the seasoning on the chop was flavorful without being overpowering.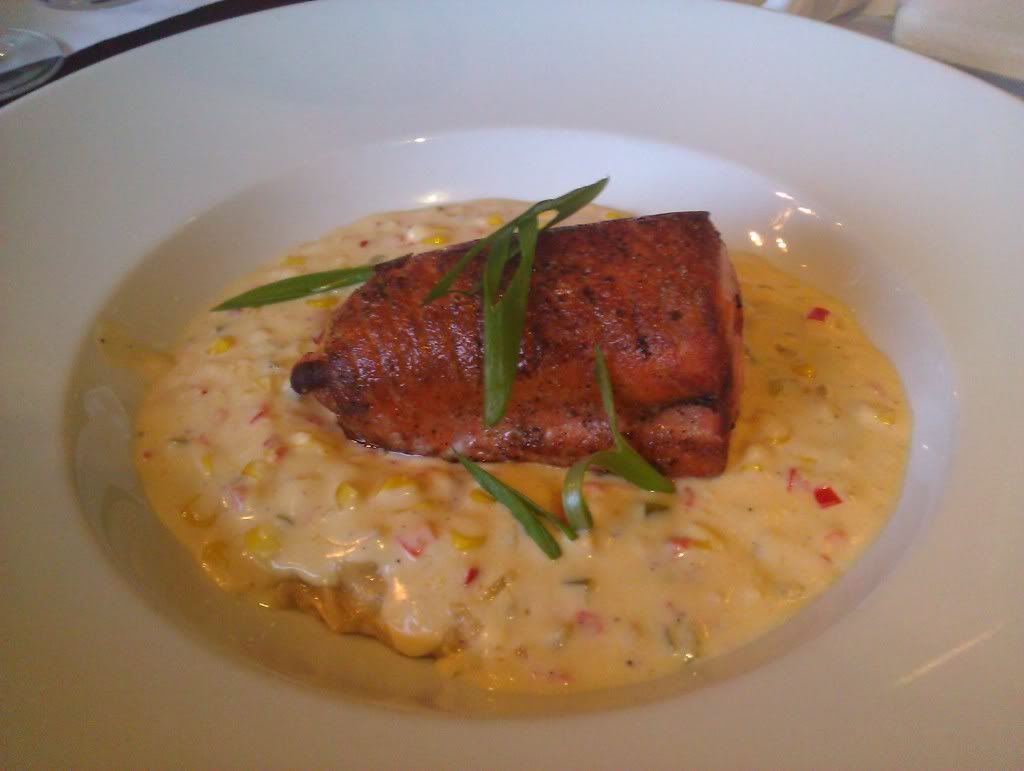 I got the "Visiting Fish," which was a WA State sockeye salmon, grilled and served on a plate of roasted-corn grits. The grits were very creamy, not bad, but so creamy that they altered expectations from hearing "served over grits" in the server's description. They were nonetheless delicious. The salmon was medium-rare, just how I like it. I'm no expert on all this "sushi-grade" ratings for fish, but if they would've cut this up and served it to me as sashimi, it would work. Like you'd expect from a New Orleans restaurant, the salmon was seasoned properly before hitting the grill. Usually you'd think ordering salmon in a "good" restaurant here is heresy (it's not a lake or gulf fish, naturally), but the "visiting fish" concept is something the Ralph Brennan people do down at Red Fish Grill in town, and it's carried over to the park.

Wine. Frankly, that $12 flight I had to start off would probably suit most folks for the meal, particularly since it was a white, a red, and rose' bubbles. Feeling particularly celebratory, and having all this good seafood in front of us, I got bottle to continue. Ralphs on the Park has a solid wine list, but this Italian white caught my eye. Bertani's "Due Uve" is a 50-50 blend of Sauvignon Blanc and Pinot Grigio at a reasonable price ($36). It was a good fit. Note the link for the wine--an online place selling it for $25, and the restaurant charged $36, about a one-third markup. That's a reasonable markup and a good indication you're not in a clip joint.
Ahhh, dessert! We decided to split two, the chocolate mousse cheesecake you see above, and a butterscotch creme brulee. Just after these two came to the table, Nicole, our server, brought out a third plate, with a flourless chocolate torte topped with a dollop of cream sauce. She flamed up a little rum and poured it over the torte, making a nice presentation for the birthday boy. Still, even though the torte was his "gift," Kev took one taste of that cheesecake and claimed it for himself. Helen loves butterscotch, so that left me with the chocolate. Imagine my disappointment. :-) The dessert menu suggested a drink pairing of Grand Marnier with the creme brulee, so I ordered one before the family got all territorial with the desserts. That still went well with the chocolate, of course. I wrapped up the evening with a cup of chicory coffee.
Service: Nicole was fantastic! She was attentive without being pushy. Staff kept the table clean, water glasses filled, and brought out more cap bread when necessary. The tab for all these goodies was $197; I opted to tip full 20% including the wine (an interesting debate Mr. Fitzmorris has engaged in on his radio show in the past), so the total bill was just under $240.